Tiki Kings Big Ukulele List

Ukulele, Ukelele, Ukalele, Uke! There are thousands of them out there, and this is a semi alphabetical list of Ukulele "Brand" names that I have seen or heard of.The linked names contain whatever Information I have been able to find in books or on the web, or that nice people have sent to me over the years. The reason I am doing this is because I often find Ukuleles that I have never heard of, and wished there was a place to look them up, and maybe get a nugget of info. I think that what I am attempting here is ambitious, but what the heck. If you feel any of the information is incorrect, please email me with your suggested correction. If there is a bit of info you feel is important to list, let me know. If there is no info, and you have some, send me a note. If you have, or know of a Ukulele that is not here, let me know. Send the info to:
tikiking@tikiking.com
Click The Ukulele Name for Information...There are currently over 700 names, so this page may take a few seconds to load. If you are looking for other information about Ukuleles, or to buy one, go to the
Tiki King Home Page
Back to the Tiki King Ukulele stuff page!
I'm in the top 50!


Neat Ukulele T-Shirts, Mugs, and More
Many Designs to choose from!
Your purchase helps support this database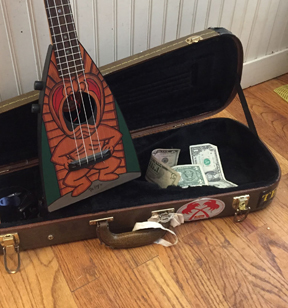 Like what we are doing?
Your generous donations
Help keep the research going,
and the pop-up ads absent!
Don't like PayPal? I am also on Venmo! @Tiki-King