Tiki King's Ukulele Database:

Konablaster


The Blue Star "Konablaster" is a solid body, steel stringed pineapple shape electric Ukulele. The Kona"blaster" lived up to it's name when an enterprising owner decided to add a "Whammy Bar". The bridge for the Konablaster is fashioned from an empty 30.06 Rifle cartridge, and although in the early versions it did not contain any gun powder, the primer cap was still live. The heat from the welder set off the cap, resulting in a harmless, (but frightening) explosion. The current models have the primer rendered safe. For More Info:www.elderly.com

Back to the Database!
Back to the Tiki King Homepage!
Ukulele, Ukelele, Ukalele, Uke!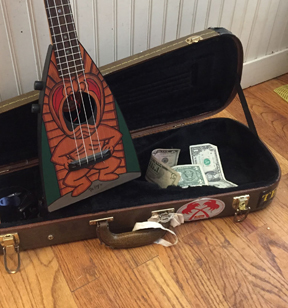 Like what we are doing?
Your generous donations
Help keep the research going,
and the pop-up ads absent!

Don't like PayPal? I am also on Venmo! @Tiki-King



looking for some cool Uke Swag?

Neat Ukulele T-Shirts, Mugs, and More
Many Designs to choose from!
Your purchase helps support this database