Tiki King's Ukulele Database:

Kay


Henry Kuhrmeyer was born in St. Paul, Minnesota May 26, 1894. He graduated from the University of Minnesota, where his fraternity brothers gave him the nickname of "Kay". After moving to Chicago in 1920, Henry became involved with the Stromberg-Voisinet company, one of the early pioneers of amplified musical instruments. Henry "Kay" Kuhrmeyer hired three top Luthiers from a competitor company, Lyon & Healy, and in 1935 The Kay Musical Instrument Company was formed. Kay primarily manufactured "department store" style, inexpensive guitars, Banjos and Ukuleles, but also specialized in High end Archtop guitars by the mid fifties, the Kay line was centered on electric instruments. in the 1960's Kay Musical Instruments moved to Illinois, and in 1965 Kay was sold to Seeburg, a company specializing in juke boxes. The Valco Company bought Kay from Seeburg in 1967, and During Valco's ownership, Kay's catalog was simply reprinted with Valco's name at the head. by 1968, Japanese competition cause the Kay/Valco company to go out of business. in October of 1969 Weiss Musical Instruments bought the Kay name. 1n 1980, a long time employee of Wiess bought the Kay name, and in 1984 the Kay Guitar Company again began manufacturing and importing instruments.

Back to the Database!
Back to the Tiki King Homepage!
Ukulele, Ukelele, Ukalele, Uke!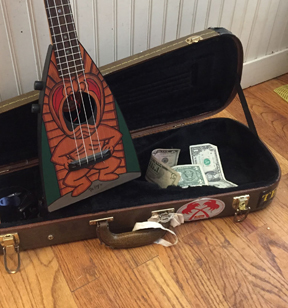 Like what we are doing?
Your generous donations
Help keep the research going,
and the pop-up ads absent!

Don't like PayPal? I am also on Venmo! @Tiki-King



looking for some cool Uke Swag?

Neat Ukulele T-Shirts, Mugs, and More
Many Designs to choose from!
Your purchase helps support this database