Tiki King's Ukulele Database:

Epiphone


Epiphone made Banjo Ukuleles in the mid 1920's and has recently begun producing standard shape wooden Ukuleles under the name Masterbuilt. Epiphone's history is traced to Epimanondas (Epi) Stathopoulos, the son of a Greek luthier, Anastasios Stathopoulos. In 1915 Anastasios died and Epi took over the family business. At this time instruments carried a "House of Stathopoulo" label. In in 1923 Epi combines his name with phone, the Greek word for sound and begins using Epiphone as a brand name on banjos. He registers the Epiphone brand name in 1924. 1928 The House of Stathopoulo officially becomes the Epiphone Banjo Co. 1943 Epi Stathopoulo dies of leukemia. his brothers ran the business until 1957 when it is sold to Gibson's parent company, Chicago Musical Instruments. In 1970 Epiphone production is moved to Japan, then Korea and other overseas sources, with the exception of a few limited edition "Made in USA" models. Recently, Epiphone has begun production of some "High end" solid mahogany Ukuleles called the "Masterbuilt" Series. Websight: www.epiphone.com/


Back to the Tiki King Ukulele Database!

Back to the Tiki King Homepage!
Ukulele, Ukelele, Ukalele, Uke!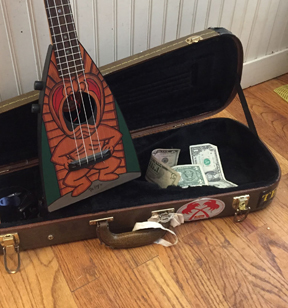 Like what we are doing?
Your generous donations
Help keep the research going,
and the pop-up ads absent!

Don't like PayPal? I am also on Venmo! @Tiki-King



looking for some cool Uke Swag?

Neat Ukulele T-Shirts, Mugs, and More
Many Designs to choose from!
Your purchase helps support this database