Tiki King's Ukulele Database:

May Singhi Breen


A native of New York, May Singhi-Breen was born in 1895. After receiving a Ukulele as an (unwanted) gift, it turned she had a natural talent for playing. She had her own radio show, and became so popular that P'Mico added an instrument to their ukulele line - the May Singhi Breen autographed model banjo Uke. She is credited with being instrumental to many music publishers decisions to add Ukulele chord diagrams to popular sheet music. She was very pro active in the formation of Ukulele clubs as well. She eventually adopted the Moniker "the Ukulele Lady". Mays own Ukulele arrangements are found on more sheet music any other single person in history. She even had her own Ukulele method books.


Back to the Tiki King Ukulele Database!

Back to the Tiki King Homepage!
Ukulele, Ukelele, Ukalele, Uke!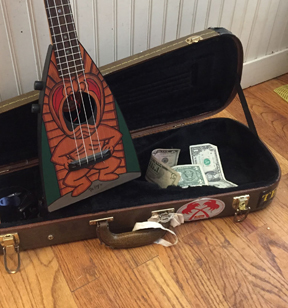 Like what we are doing?
Your generous donations
Help keep the research going,
and the pop-up ads absent!

Don't like PayPal? I am also on Venmo! @Tiki-King



looking for some cool Uke Swag?

Neat Ukulele T-Shirts, Mugs, and More
Many Designs to choose from!
Your purchase helps support this database