Tiki King's Ukulele Database:

US Strad


Circa 1950's. Headstock has decal of a shield with red and white stripes, with "US" at the top, and a Banner that says "STRAD". I am not certain if the name is "US STRAD" or if the name is "STRAD" and was made in the US. I believe Strad was a brand name used by the "Strad-O-Lin" Company out of New York, operated by the Hominic Brothers from 1920's until 1960's, when they were bought out by Premier/Multivox.

Back to the Tiki King Ukulele Database!

Back to the Tiki King Homepage!
Ukulele, Ukelele, Ukalele, Uke!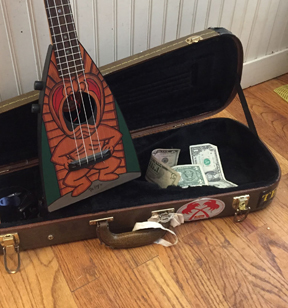 Like what we are doing?
Your generous donations
Help keep the research going,
and the pop-up ads absent!

Don't like PayPal? I am also on Venmo! @Tiki-King



looking for some cool Uke Swag?

Neat Ukulele T-Shirts, Mugs, and More
Many Designs to choose from!
Your purchase helps support this database