Tiki King's Ukulele Database:

Goya


Goya was a trade name used on guitars the Levin Company of Sweden exported to the USA in relatively large quantities. The Levin Company dates back to the turn of the century. It made high-quality acoustic flattop steel-string and classical guitars as well as archtop jazz guitars and mandolins. The instruments were sold in Europe under the Levin brand name. During the 1960s some Goya brand electric guitars were made by Eko in Italy. Many of these had bodies covered in brightly colored plastic imitation pearl (pearloid). The Levin Company was acquired by the C.F. Martin company during the early 1970s. After a short period of time, Martin closed the facility. Martin retained the Goya brand name and used it on a line of guitars it imported from Korea (and reportedly Taiwan) until the end of 1996. Martin still owns the Goya name but as of January 1, 1997, Goya guitars, mandolins, and banjos are no longer being offered.

Back to the Tiki King Ukulele Database!

Back to the Tiki King Homepage!
Ukulele, Ukelele, Ukalele, Uke!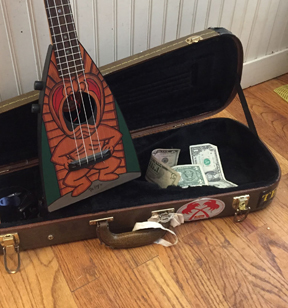 Like what we are doing?
Your generous donations
Help keep the research going,
and the pop-up ads absent!

Don't like PayPal? I am also on Venmo! @Tiki-King



looking for some cool Uke Swag?

Neat Ukulele T-Shirts, Mugs, and More
Many Designs to choose from!
Your purchase helps support this database