Tiki King's Ukulele Database:

Jimmy Durante


There were two versions that I know of, both Made in the USA. One made by Emenee, which featured Jimmy's face on the headstock and "Emenee", and one by Intersphere, which has the same picture of Jimmy, but has "Hot Cha Cha" on a banner, and the Intersphere logo. Jimmy Durante was a Singer, Musician, Actor and Comedian in Hollywood in the 1920s through the 1970s. He was considered to be one of Americas most loved personalities of the time. He was a star of Vaudeville, Radio, Television, and many Films.
Jimmy Durante Passed away on January 29, 1980, at age 86,

Back to the Database! Back to the Tiki King Homepage!
Ukulele, Ukelele, Ukalele, Uke!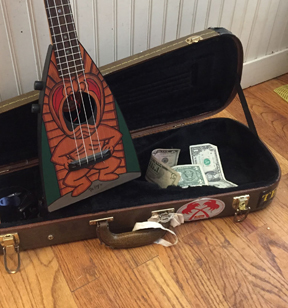 Like what we are doing?
Your generous donations
Help keep the research going,
and the pop-up ads absent!

Don't like PayPal? I am also on Venmo! @Tiki-King



looking for some cool Uke Swag?

Neat Ukulele T-Shirts, Mugs, and More
Many Designs to choose from!
Your purchase helps support this database