Tiki King's Ukulele Database:

Lone Ranger


Sold By T. Eaton and Co. Circa 1939. Soundboard was painted with a scene of the Lone Ranger on his Horse Silver, with the words Hi-Ho Silver" at the top.
About the Lone Ranger:
The lone Ranger was an early radio and television show about a masked Texas ranger in Americas old west. His constant companions were his Horse "Silver" and an American Indian sidekick,"Tonto" About Eatons:
Eaton's was established in 1869 in canada by an Irish immigrant, Timothy Eaton, and went on to become one of the largest retail and catalog mail order businesses in Canada. It's 130 year history came to an end when the chain filled for bankruptcy, and closed its doors in 1999.

Websight:
Email:


Back to the Tiki King Ukulele Database!

Back to the Tiki King Homepage!
Ukulele, Ukelele, Ukalele, Uke!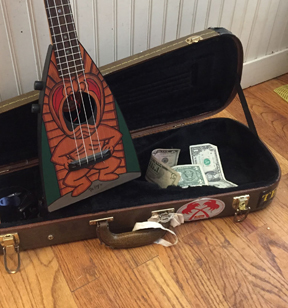 Like what we are doing?
Your generous donations
Help keep the research going,
and the pop-up ads absent!

Don't like PayPal? I am also on Venmo! @Tiki-King



looking for some cool Uke Swag?

Neat Ukulele T-Shirts, Mugs, and More
Many Designs to choose from!
Your purchase helps support this database