Tiki King's Ukulele Database:

Magic Fluke


I Try to remain neutral, but I have to say I love Magic Fluke. It was the deep warm tone of the original Fluke Ukulele that really made me want to play, and although I own instruments well into the $3500.00 range, it is the Fluke I reach for the most, and its rugged durability makes it my travel companion. Introduced in January of 1999, This uniquely streamlined ukulele is made entirely in the USA by The Magic Fluke Company, with manufacturing overseen by its designer, Dale Webb. At the time of this writing there were many designs in both acoustic or amplified, and available as concert or tenor, as well as the soprano "Flea", "Firefly" Banjo Uke, the "Timber Bass" and even a violin aptly named "Cricket"!

For more Info go to: www.magicfluke.com Tell' em Tiki King sent you! Addendum: as of 2010 I have done over 28 designs for Magic Fluke. You can see most of them here: www.tikiking.com/uke_Pic_Frame_Set.html

Back to the Database! Back to the Tiki King Homepage!
Ukulele, Ukelele, Ukalele, Uke!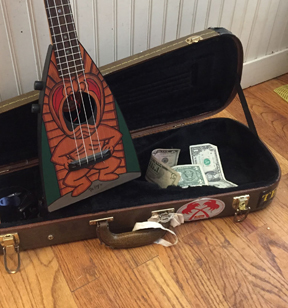 Like what we are doing?
Your generous donations
Help keep the research going,
and the pop-up ads absent!

Don't like PayPal? I am also on Venmo! @Tiki-King



looking for some cool Uke Swag?

Neat Ukulele T-Shirts, Mugs, and More
Many Designs to choose from!
Your purchase helps support this database