Tiki King's Ukulele Database:

Kaholas


Label reads: "Ukulele'O'Hawaii, Kaholas & Co. Highest Grade for Tone Quality and Workmanship" Another example carries a label which reads:
"Kaholas & Co.; Hawaiian Ukulele. Warranted 6-7-8."
Research suggests that some may have been made in Hawaii, but others may have been made by Gretsch Circa 1920's The "Hawaiian Ukulele" marking can be confusing. There were many Ukuleles made in the teens and twenties which were mainland made, but carried the slogan "Hawaiian Ukulele" or similar wording. This was what prompted the "Tabu" stamp which is seen on many genuinely Hawaiian built instruments of the period.

Back to the Database!
Back to the Tiki King Homepage!
Ukulele, Ukelele, Ukalele, Uke!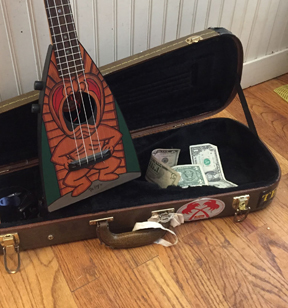 Like what we are doing?
Your generous donations
Help keep the research going,
and the pop-up ads absent!

Don't like PayPal? I am also on Venmo! @Tiki-King



looking for some cool Uke Swag?

Neat Ukulele T-Shirts, Mugs, and More
Many Designs to choose from!
Your purchase helps support this database