Tiki King's Ukulele Database:

Beare and Sons


The label inside reads BEARE & SONS EST 1865 LONDON ENGLAND, TORONTO CANADA
in the middle is a cat playing a fiddle.

BEARE & SON is one of the U.K.'s oldest established suppliers of instruments, bows, cases and accessories for the violin family - ie. Violin, Viola, Cello and Double Bass.
The company began at 32 Brewer Street (off Regent St in London) in 1865 and moved to 34 Rathbone Place (just off Oxford Street) around 1881; then moved next door to 32 Rathbone Place c.1913 until 1975.
After short periods in Barnet and Hemel Hempstead they moved to their current premises in Dunstable, Bedfordshire in May 1994.

Beare & Sons no longer deal in Ukuleles, interest that part of the company was sold to Boosey & Hawkes (a music publisher, also still in business today) who later sold the instrument part to Buffet-Crampon in France. Buffet-Crampon is also still in business selling wind instruments, but to my knowledge no longer deal in Ukuleles

Beare & Sons Websight:http://pattilandfarm.com/kernel.php?sitename=beare&t=4&pageid=index.html

Address:
Beare and Sons
18 Tavistock Place,
Tavistock Street,
Dunstable, Bedfordshire,
UK LU6 1NE

Phone:
Tel 01582 477130
Fax 01582 477130


Back to the Tiki King Ukulele Database!



Back to the Tiki King Homepage!
Ukulele, Ukelele, Ukalele, Uke!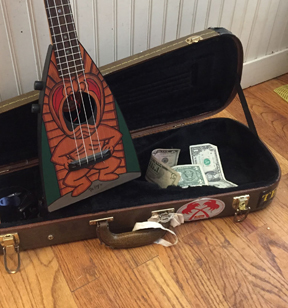 Like what we are doing?
Your generous donations
Help keep the research going,
and the pop-up ads absent!

Don't like PayPal? I am also on Venmo! @Tiki-King



looking for some cool Uke Swag?

Neat Ukulele T-Shirts, Mugs, and More
Many Designs to choose from!
Your purchase helps support this database