Tiki King's Ukulele Database:

Davy Crockett


I Have seen two Davy Crockett Ukuleles. One was a Plastic Uke marked "Made in Usa" It features a "portrait" of Davy on the headstock, and the words "Davy Crockett Guitar" (although it is a Ukulele) and red plastic tuning pegs. The soundboard has a scene on Davy hunting a bear, with Davy shaking his fist on the lower bout, and the bear above him on a tree limb. the shape of the headstock, bridge and fretboard sugest that it was made by one of The Maccaferri companies, such as Mastro Plastics
The other Davy Crockett I have seen was a Tenor scale Ukulele Made by Disney, Circa 1955. It is "Bell" shaped, harking back to the song "Ballad of Davy Crockett" which has the line "He patched up the crack in the Liberty bell". Headtock has a circular lable with a picture of Davy, surrounded by "Walt Disney's Official Davy Crockett Guitar." plywood and particle board construction, collector value far exceeds player vaule.
Websight:
Email:


Back to the Tiki King Ukulele Database!



Back to the Tiki King Homepage!
Ukulele, Ukelele, Ukalele, Uke!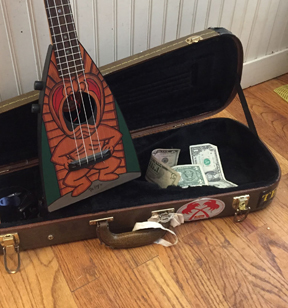 Like what we are doing?
Your generous donations
Help keep the research going,
and the pop-up ads absent!

Don't like PayPal? I am also on Venmo! @Tiki-King



looking for some cool Uke Swag?

Neat Ukulele T-Shirts, Mugs, and More
Many Designs to choose from!
Your purchase helps support this database