Tiki King's Ukulele Database:

Ukelin


The Ukelin was one of a few Ukulele-Violin hybrids. The Ukelin was produced from 1926 to 1963. It was played with a pick and a Violin type Bow, by strumming one set of strings while bowing another set. They were sold by door to door salesmen who would demonstrate the "beautiful sound and extreme ease of play". Unfortunately, they proved somewhat difficult to play and almost impossible to keep tuned. They are now often found in attics and closets in "mint" condition, usually in the original box along with nicely intact instructions and paperwork, Sadly, they often have a surprisingly low value, even among collectors. at the time of this writting in 2002, a fairly good condition Ukelin can be had for around $35, oddly about the same price they sold for in the 30's and 40's.

Back to the Database!

Back to the Tiki King Homepage!
ukulele, ukelele, ukalele, uke!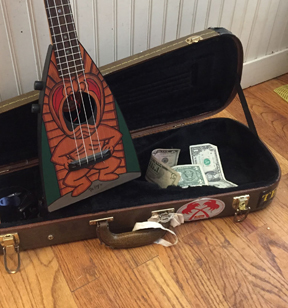 Like what we are doing?
Your generous donations
Help keep the research going,
and the pop-up ads absent!

Don't like PayPal? I am also on Venmo! @Tiki-King



looking for some cool Uke Swag?

Neat Ukulele T-Shirts, Mugs, and More
Many Designs to choose from!
Your purchase helps support this database