Tiki King's Ukulele Database:

Ukulele Ike


A Plastic Ukulele, possible made by Mastro , Carnival, or Emenee. Headstock features a circle with the words "Ukulele Ike" around the top, a picture of Cliff "ukulele Ike" Edwards wearing a fedora, and then the "Cliff Edwards" signature around the bottom. On The Left side of the Circle it says: Made in USA, and on the Right it says: Pat Pend. I found reference to a recording of Cliff Edwards doing a radio commercial for the "Cliff Edwards "Ukulele Ike" plastic Ukulele, and music course" dated August 22, 1950. so it would be safe to assume that it was produced then.


Back to the Tiki King Ukulele Database!



Back to the Tiki King Homepage!
ukulele, ukelele, ukalele, uke!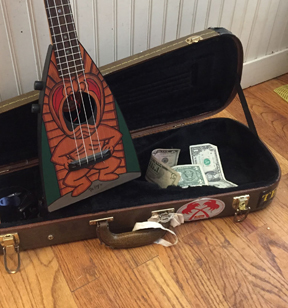 Like what we are doing?
Your generous donations
Help keep the research going,
and the pop-up ads absent!

Don't like PayPal? I am also on Venmo! @Tiki-King



looking for some cool Uke Swag?

Neat Ukulele T-Shirts, Mugs, and More
Many Designs to choose from!
Your purchase helps support this database