Tiki King's Ukulele Database:

Nu-Way


Built by the Albert Houdlett & Son drum and banjo company. From what I understand, the Albert Houdlett & Son company started business in Brooklyn, New York, about 1865. They originally produced drums, then later added banjos to the line, which included "Lynbrook", "Nu-Art" and "Nu-Way" banjos. Around 1883, One of their employees, Friedrich Gretsch, left the company to form his own business, Fred Gretsch Mfg. Co., (also in Brooklyn) who made many instruments, but specialized in (and is still known for) drums. The Gretsch company is still in business today. The Albert Houdlett & Son drum and banjo company closed its doors around 1930. I have also seen reference to an "Emil Houdlett" how was a Banjo maker, also in Brooklyn in 1924. I do not know if there is any relation.

Back to the Database!
Back to the Tiki King Homepage!
Ukulele, Ukelele, Ukalele, Uke!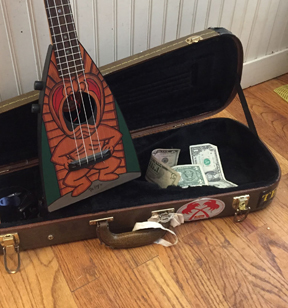 Like what we are doing?
Your generous donations
Help keep the research going,
and the pop-up ads absent!

Don't like PayPal? I am also on Venmo! @Tiki-King



looking for some cool Uke Swag?

Neat Ukulele T-Shirts, Mugs, and More
Many Designs to choose from!
Your purchase helps support this database