Tiki King's Ukulele Database:

Mattel


Matel was and continues to be one of the largest toy companies in the world. Mattel made many Ukulele type instruments. The first of which was the Uke-a-doodle. They also made a large assortment of what they called "Musical Ge-Tars" These were Cartoon character themed, four string small Ukulele type toy instruments which had a small crank on the side that played an internal music box. Some examples I have seen of these were:
"Beenie and Cecil"(Song: unknown )
"Popeye" (Song: "Popeye the Sailor man")
"Yogi Bear" (Song: "Yogi Bear Theme song")
"Tom and Jerry" (Song: unknown)
"Cowboy" (Song: Red River Valley)
"Bugs Bunny" (Song:"Hail, Hail, the Gang's All Here")
"Doctor Dolittle"(Song:unknown )
"Mother goose"(Song: unknown)
Mattel also Made what it called the "Strum Fun Ge-tar" which had interchangable disks that played different songs, such as:
"Darling Clementine",
"My old Kentucky home",
"The bear went over the mountain",
"Oh! Susanna",
"Oh, where is my little dog gone",
"Jingle bells",
"The eyes of Texas",
and
"For he's a jolly good fellow".
None of these would be considered "Players" but have some novelty value for collectors


Back to the Tiki King Ukulele Database!

Back to the Tiki King Homepage!
Ukulele, Ukelele, Ukalele, Uke!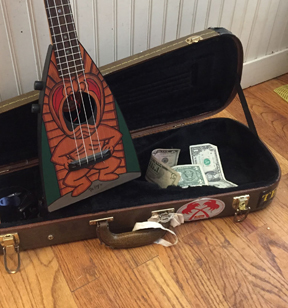 Like what we are doing?
Your generous donations
Help keep the research going,
and the pop-up ads absent!

Don't like PayPal? I am also on Venmo! @Tiki-King



looking for some cool Uke Swag?

Neat Ukulele T-Shirts, Mugs, and More
Many Designs to choose from!
Your purchase helps support this database