Tiki King's Ukulele Database:

Godfrey


The Godfrey name is associated with several Ukes, such as the Vega, the and the Flamingo (plastic). Arthur Godfrey was an avid musician, and star of Radio and Television in the late 40's 50's. and 60's He had several shows, such as Arthur Godfrey's Talent scouts, ( 1948 to 1958 ) Arthur Godfrey and his friends which ran from 1949 to1957 .There was also a short lived show called Arthur Godfrey and his Ukulele which was only on the air from April to June of 1950. Eddie Connors designed instruments for Godfrey, and is credited by some as the original designer of the baritone ukulele. Also see "Vega"

Back to the Database! Back to the Tiki King Homepage!
Ukulele, Ukelele, Ukalele, Uke!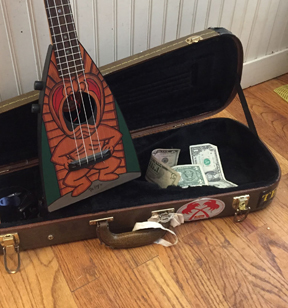 Like what we are doing?
Your generous donations
Help keep the research going,
and the pop-up ads absent!

Don't like PayPal? I am also on Venmo! @Tiki-King



looking for some cool Uke Swag?

Neat Ukulele T-Shirts, Mugs, and More
Many Designs to choose from!
Your purchase helps support this database