Tiki King's Ukulele Database:

Maccaferri


Mario Maccaferri was born in 1900 in Cento, near Bologna, in Italy. When he was about 11 years old, he apprenticed to the Italian master luthier and renowned musician, Luigi Mozzani. As a young adult Mario Maccaferri was himself regarded as a master luthier and musician. later He developed a thriving business in plastics helped along by his "Maccaferri Futurity reed" a plastic Reed Endorsed by Benny Goodman and others. In the Fifties he developed an idea for Plastic Guitars, and although they were not a real market success, he made a healthy sum with the famous plastic Ukuleles and the Arthur Godfrey Chord Finder. When he died in May of 1993, he was mastering designs for his new plastic violins.
Maccaferri's Mastro Plastics produced the Islander, the Islander Semi Deluxe, Islander Deluxe, (with an extended fretboard) The Islander Ukette, also known as "Sparkle Plenty"(a sort of small soprano) The Islander Baritone, The T.V. Pal, the Playtune Senior. in the 60'd they even made a Beatles theme "Jr. Guitar" Uke. A few other (Non Maccaferri) variations on the Plastic Uke theme were the Carnival series, the Mauna Loa, the flamingo, the Hootenanny, the Fin-der, and a host of others. Many Patents were filed in the early 1950's on the Plastic Ukulele idea. While Maccaferri may not have been the first, his were certainly the most successful.



Back to the Tiki King Ukulele Database! Back to the Tiki King Homepage!
Ukulele, Ukelele, Ukalele, Uke!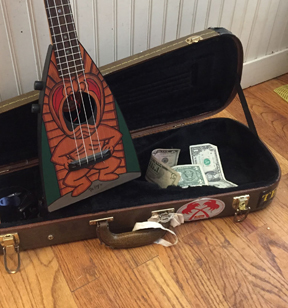 Like what we are doing?
Your generous donations
Help keep the research going,
and the pop-up ads absent!

Don't like PayPal? I am also on Venmo! @Tiki-King



looking for some cool Uke Swag?

Neat Ukulele T-Shirts, Mugs, and More
Many Designs to choose from!
Your purchase helps support this database