Tiki King's Ukulele Database:

Kiwaya


Kiwaya was originally established in 1919 as a maintenance service company for gramophones in Kanda, Tokyo. In the 1940's Kiwaya transitioned from gramophone maintenance to a music shop and in 1947 Kiwaya moved from Kanda to Matsugaya, where it is now located. Ryouji Okamoto produced Kiwaya's first brand ukulele, under the name "Famous". In 1993, Ryouji bought the trademark for Luna and began selling Luna branded ukuleles through Kiwaya. around this time, Ryouji also started to sell the "Nakanishi" Ukulele, made by Seiichi Nakanishi, which are said to rival Martins In 2002, Ryouji became the CEO of Kiwaya. He assigned Kyoko Hara, his oldest daughter, to be the president of Kiwaya. Kiwaya USA was established in 2006.
Websight:www.kiwaya.com/


Back to the Tiki King Ukulele Database!

Back to the Tiki King Homepage!
Ukulele, Ukelele, Ukalele, Uke!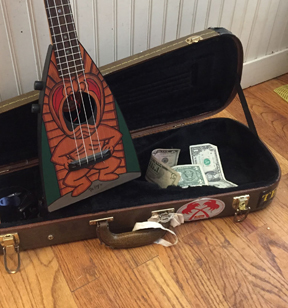 Like what we are doing?
Your generous donations
Help keep the research going,
and the pop-up ads absent!

Don't like PayPal? I am also on Venmo! @Tiki-King



looking for some cool Uke Swag?

Neat Ukulele T-Shirts, Mugs, and More
Many Designs to choose from!
Your purchase helps support this database