Tiki King's Ukulele Database:

Duke Kahanamoku


Duke Kahanamoku was (and remains) a surfing legend. From 1912 to 1932 he won several gold and silver medals for swimming in the Olympics, and traveled the world promoting surfing. "the Duke" was responsible for popularizing Surfing on the Mainland, starting right here in my home town of Santa Cruz, Ca. Duke Kahanamoku was 77 years old when he passed away on January 22, 1968
From what I have found, Duke Kahanamoku Ukuleles were produced in two styles, Pineapple, and "Standard" soprano. They were manufactured as tourist items and at the time of this writing, are still available in some Hawaiian souvenir shops. They range from fairly decent to "Tourist" grade. Generally the older, the better.

Back to the Database!
Back to the Tiki King Homepage!
Ukulele, Ukelele, Ukalele, Uke!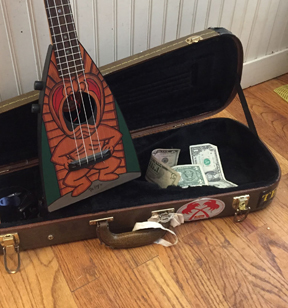 Like what we are doing?
Your generous donations
Help keep the research going,
and the pop-up ads absent!

Don't like PayPal? I am also on Venmo! @Tiki-King



looking for some cool Uke Swag?

Neat Ukulele T-Shirts, Mugs, and More
Many Designs to choose from!
Your purchase helps support this database