Tiki King's Ukulele Database:

Flea


Introduced in 2003, the FLEA ukulele has rapidly gained a dedicated following.  This uniquely pineapple shaped soprano scale ukulele is made entirely in the USA by The Magic Fluke Company, ( which also make the Fluke ) with manufacturing overseen by its designer, Dale Webb. Like it's "big Brother" the Fluke, the Flea has a solid maple neck and Australian pine top combined with a molded body and fretboard

In 2012, the Schoenhut Co. began producing a Schoenhut branded, low priced, chinese made knock-off of Magic Fluke Co.s famous Flea Ukulele Under license from Magic Fluke.

Addendum: as of 2010 I have done eighteen designs for Magic Fluke. You can see them here: www.tikiking.com/uke_Pic_Frame_Set.html

Websight: http://www.fleamarketmusic.com
Email: info@flea-mkt-music.com


Back to the Tiki King Ukulele Database!

Back to the Tiki King Homepage!
Ukulele, Ukelele, Ukalele, Uke!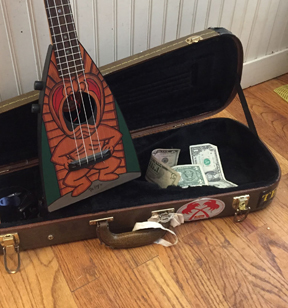 Like what we are doing?
Your generous donations
Help keep the research going,
and the pop-up ads absent!

Don't like PayPal? I am also on Venmo! @Tiki-King



looking for some cool Uke Swag?

Neat Ukulele T-Shirts, Mugs, and More
Many Designs to choose from!
Your purchase helps support this database