Tiki King's Ukulele Database:

Peter Pan


There were several ukuleles and Banjo ukuleles using the "Peter Pan" name in the 20's through 40's. The two most common are one made by Regal in the 40's, distributed by the Progressive Musical instrument co. NY, NY (Pmico) it has a distictive half circle "cutaway" in the headstock. The other was made by Harmony, and has a celuloid fretboard, and a Peter Pan caricature on the headstock.

Back to the Database! Back to the Tiki King Homepage!
Ukulele, Ukelele, Ukalele, Uke!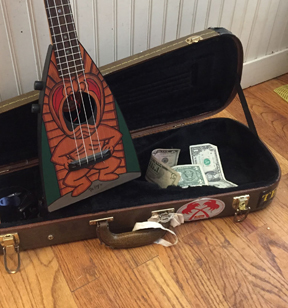 Like what we are doing?
Your generous donations
Help keep the research going,
and the pop-up ads absent!

Don't like PayPal? I am also on Venmo! @Tiki-King



looking for some cool Uke Swag?

Neat Ukulele T-Shirts, Mugs, and More
Many Designs to choose from!
Your purchase helps support this database