Tiki King's Ukulele Database:

Playtune


Made in the USA circa 1950's. I Have seen examples of a Playtune senior, and a Playtune Junior. The box for the Playtune Senior boasted "Full Professional size, Powerful penetrating tone, Perfect Pitch, and a "Precision Fingerboard" On the Junior, you find the slogans:"A real Musical instrument in Junior size!" (it was about 15") and "Real Ukulele Tone!" Although neither are marked Maccaferri, The Playtune Senior Lists two Patent numbers, 2614448 and 2597154. Both filed in 1950 byMario Maccaferri

Back to the Database! Back to the Tiki King Homepage!
Ukulele, Ukelele, Ukalele, Uke!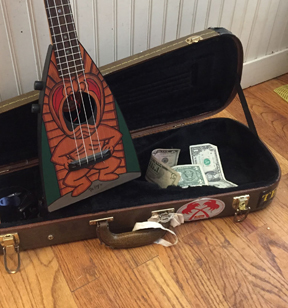 Like what we are doing?
Your generous donations
Help keep the research going,
and the pop-up ads absent!

Don't like PayPal? I am also on Venmo! @Tiki-King



looking for some cool Uke Swag?

Neat Ukulele T-Shirts, Mugs, and More
Many Designs to choose from!
Your purchase helps support this database