Tiki King's Ukulele Database:

Vega


Makers of Ukuleles, Tenor Guitars, banjos. such as the "classic lute" and "Solo Lute" a bariton scale instrument first made at the request of Arthur Godfrey. Eddie Connors, who worked for Vega is credited as "inventing" the baritone Ukulele for Godfrey, "in the early 1950's", However, there are many who say that the Baritone was first made by Favilla, and the controversy remains today. Interesting note. On the soundhole label on a Vega deluxe "classic lute" baritone, I found the patent numbers 2,460,443 and 2,468,374. 2,460,443 is the patent number for a photographic enlarger, and 2,460,443 is for a hollow body archtop electric guitar patented by Vega in 1949.


Back to the Tiki King Ukulele Database!



Back to the Tiki King Homepage!
Ukulele, Ukelele, Ukalele, Uke!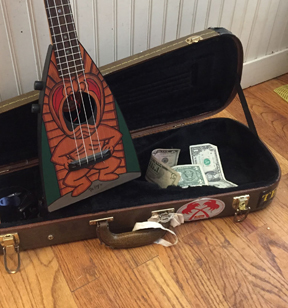 Like what we are doing?
Your generous donations
Help keep the research going,
and the pop-up ads absent!

Don't like PayPal? I am also on Venmo! @Tiki-King



looking for some cool Uke Swag?

Neat Ukulele T-Shirts, Mugs, and More
Many Designs to choose from!
Your purchase helps support this database