Tiki King's Ukulele Database:

Bobby Henshaw


Circa 1940's-50's. Named after vaudevillian Bobby "Uke" Henshaw, who was a noted vaudeville entertainer of the teens and twenties who was known for his skill on the ukulele. His name also appears on baritone Ukuleles and tenor guitars. Bobby "Uke" Henshaw Was Born Jan. 13th, 1896, and died on Oct. 29, 1969, in Los Angeles, CA. Although Bobby Henshaw is listed in some genealogical research as having died in Coronado. He did, in fact, die in Los Angeles, which is confirmed by the family and California death records. I have seen two versions of the "Bobby Henshaw" headstock markings. and severasl versions of the Ukuleles them selves. Some have an embossed metal crest, which also says "Sorkin, NY." But a sticker inside the soundhole reads "Made in Japan" others look to be screened or stenciled. The stenciled version appears to be more recent, and may have been a different manufacturer.


Back to the Tiki King Ukulele Database!



Back to the Tiki King Homepage!
Ukulele, Ukelele, Ukalele, Uke!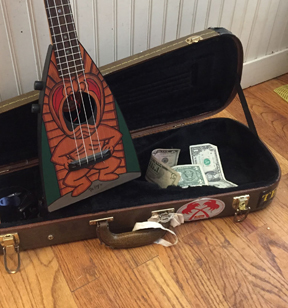 Like what we are doing?
Your generous donations
Help keep the research going,
and the pop-up ads absent!

Don't like PayPal? I am also on Venmo! @Tiki-King



looking for some cool Uke Swag?

Neat Ukulele T-Shirts, Mugs, and More
Many Designs to choose from!
Your purchase helps support this database