Tiki King's Ukulele Database:

Bacon


Made by the Bacon Banjo Company. The Bacon Banjo company was started in 1908 by Fred J. Bacon, who was considered one of the best Banjo players of all time. Fred Bacon was Born in Vermont in 1871, and was so talented that he turned professional and began touring at age 16. In 1908 he opened the Bacon Manufacturing and Publishing Company. By 1920 he was being billed as America' s greatest banjo player.Unsatisfied with the banjos available at the time he decided to build his own. He hired David Day, formerly of Vega, and began producing instruments using many high end materials such as from all over the world, such as ebony from Africa, walnut from Brazil and teak from Burma, ornamented with ivory, mother-of-pearl, gold and silver. Unfortunately in 1929, due mostly to the great depression, business began a sharp decline. in 1938 a hurricane left the plant closed, and what remained of the business was purchased by The Gretsch Company. The Bacon Banjo Company was officially dissolved and the property sold in 1943


Back to the Tiki King Ukulele Database!



Back to the Tiki King Homepage!
Ukulele, Ukelele, Ukalele, Uke!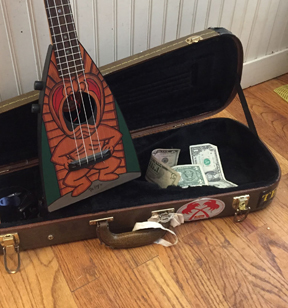 Like what we are doing?
Your generous donations
Help keep the research going,
and the pop-up ads absent!

Don't like PayPal? I am also on Venmo! @Tiki-King



looking for some cool Uke Swag?

Neat Ukulele T-Shirts, Mugs, and More
Many Designs to choose from!
Your purchase helps support this database