Tiki King's Ukulele Database:

Kasuga


Japanese. Label reads:
"KASUGA MUSICAL INSTRUMENT MFG CO LTD,
SILVER MELLOW TONE UKULELE,
220,
NAGOYA JAPAN."

Kasuga, (Pronounced KA-soo-ga) Music Instruments Manufacturing Co. Ltd of Nagoya,Japan,
was established in 1935 by Miki Bukichi (who went on to become chairman of the Japanese
Democratic Socialist Party in the 1950s). Before going bust, the company was mainly
an acoustic guitar brand, although it made a small range of electric guitars too.
Kasuga also made lots of bluegrass instruments banjos, mandolins as well as ukuleles, etc.

The "Mellow Tone" as well as the Silver Mellow Tone" name brand was also used on Kasuga guitars

Kasuga also known for being an OEM manufacturer, usually for Tokai, C.F. Martin and B.C. Rich, among others.

Kasuga went out of business in the 1990s


Back to the Tiki King Ukulele Database!

Back to the Tiki King Homepage!
Ukulele, Ukelele, Ukalele, Uke!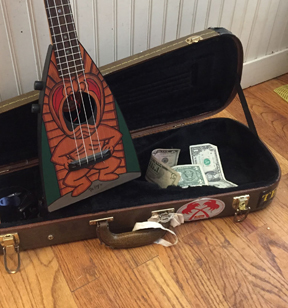 Like what we are doing?
Your generous donations
Help keep the research going,
and the pop-up ads absent!

Don't like PayPal? I am also on Venmo! @Tiki-King



looking for some cool Uke Swag?

Neat Ukulele T-Shirts, Mugs, and More
Many Designs to choose from!
Your purchase helps support this database