Tiki King's easy-ish Falernum


Makes about 1 liter
3 1/2 cups sugar
1/2 teaspoon almond extract
1/2 teaspoon vanilla extract
1/4 teaspoon orange extract
1/4 teaspoon ginger
1/4 teaspoon allspice
1/4 teaspoon Chinese five spice
6 packets tru lime powdered lime juice 4 packets tru lemon powdered lemon juice boiling water
1/2 cup 151 proof rum
1/2 cup distilled water (boiling)
you will need:
1 liter bottle, measuring spoons, very fine sieve (reusable coffee filters work well) 4 cup measuring cup, all cleaned and sterilized.
Start by mixing 1/2 cup distilled water with all spices, bring to a boil, remove from heat. Add lemon and lime powder, mix well and set aside. Dissolve sugar in just enough boiling water to make a syrup, set aside. Pour rum and extracts into bottle, replace cap or cork and shake. Strain spice mixture into syrup mixture, then add to bottle. mix well. store in a cool dark place, or refrigerate, use within a couple months.
Back to
Tiki King's virtual bartender
at:
www.tikiking.com
Because someone,
somewhere,
needs a Cocktail right now...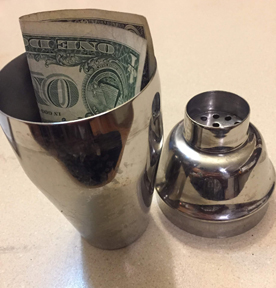 Like what we are doing?
Your generous donations
Help keep the bar stocked,
and the pop-up ads absent!
Don't like PayPal? I am also on Venmo! @Tiki-King