Ok, So you just bought an old Ukulele at a thrift store /music store/ pawn shop or flea Market. You take it home, tune it up, strum, and it sounds beautiful. Then you make a chord and, eeewww!.
So, you go pick up the Uke from where you inadvertently threw it in horror, and check your tuning, Hmmm, it's still in tune. You strum again, sounds good. But every time you fret or make a chord, something is just not right.
Just a bad Uke?
Maybe.
OR it might just be set up wrong. Now, Feeling brave? Ok. lets start with a little physics lesson in regards to the mechanics of a stringed instrument. There are many, many things which directly and indirectly contribute to the sound of a Ukulele (or any instrument). Resonance of the material it was constructed from, size and shape of the body and sound hole, length, tension and type of the strings, material and placement of the frets, nut, fingerboard, bridge, saddle...
I can't go over it all, but I can give you some main points.


Where does the sound come from?


When you strum or pluck a string, The vibration of that string is passed on to the material of the Sound board through the bridge, This vibration is amplified by the hollow space of the body, and the result is the sound you hear. The length and thickness of the string determines that strings sound range, while the tension of the string determines the pitch within that range. A long loose thick string will produce a slow vibration, and hence a low note. A short tight thin string will produce a fast vibration, and hence a high note.

When a string is tuned, you are changing the tension.

When a string is fretted, for the most part, you are changing the length.

So a string of a certain thickness and length can be tuned (tensioned) to a certain starting range, and then shortened (fretted) to achieve the desired pitch or note. The proper amount of shortening is achieved by the placement of the frets in relation to the over all length (or scale) of the string, from nut to bridge. This is why the relationship of all these parts in regards to their distances from each other is crucial. If the bridge, nut, or frets are not the proper heights or distances from each other, the result is an unplayable Uke. Fortunately, some of these problems can be fixed.

The first thing I do when I get a "new" old Uke is check the strings. If the strings that are on it already sound good, and play fine, they probably are. If not, take the old cracked fishing line, guitar strings, or picture hanging wire off, and put on a nice set of Aquila Nylgut strings, and then play with it for about a week. The reason for this is that bad strings sound bad, and new strings can take about a week to "settle in". This is a good idea before you mess with the set up. If you did that and it still sounds bad, well, read on.


First, lets get our terms in sync. Here is a picture to help.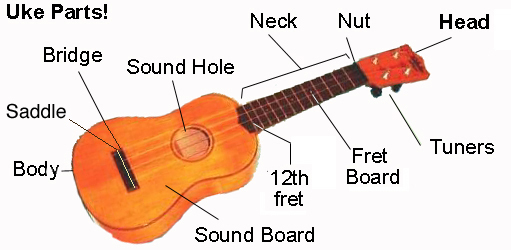 And when you get there, you'll want to rap like a pro with the boss. So click here to head on over to the Ukulele parts dictionary for some terms to toss around...

Back to Uke School
Ukulele, Ukelele, Ukalele, Uke!


I'm in the top 50!