The Vesper


The Vesper was "invented" by James Bond
in the book "Casino Royal", So techtically
it was probably first made by Ian Fleming.
Here is his receipe.
3 oz Gin (preferably Gordons)
1 oz 100 proof Vodka
1/2 oz Kina Lillet (see below)
thin slice of lemon peel
In a shaker half filled with cracked ice,
Shake Gin, Vodka, and Kina Lillet
Very well, until shaker is frosting over.
strain into Cocktail glass
and serve with Lemon slice
Now here is the rub. Kina Lillet is no longer availble. it was reformulated and rebranded in the 1980's. The "new" formula is called lillet blanc. it has a less bitter flavor and contains less Quinine. So one simple remedy is to usethe lillet blanc,and add a heavy dash of agnostura bitters. Or better yet, a quinine forward bitters, which can be found online.
Back to
Tiki King's virtual bartender
at:
www.tikiking.com
Because someone,
somewhere,
needs a Cocktail right now...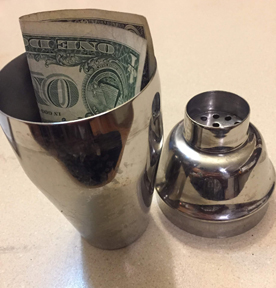 Like what we are doing?
Your generous donations
Help keep the bar stocked,
and the pop-up ads absent!
Don't like PayPal? I am also on Venmo! @Tiki-King