Tiki King's
Virtual Bartender
Tiki Kings spiced Cider


makes about 10 servings
2 quarts apple cider
1 cup amber rum
1/2 cup burbon
1/2 cup
spiced honey syrup
1 orange, sliced into rounds, plus more for garnish
6 whole cloves
1/4 teaspoon ground cinnamon
3 cinnamon sticks for garnish
In a medium saucepan over medium heat, combine all ingredients (except garnish and alcohol). Bring to a simmer DO NOT BOIL, then reduce heat to low. Simmer gently over low heat for 10 minutes. stir in rum and burbon. Serve warm and garnish each cup with one orange slice and a cinnamon stick.
Back to
Tiki King's virtual bartender
at:
www.tikiking.com
Because someone,
somewhere,
needs a Cocktail right now...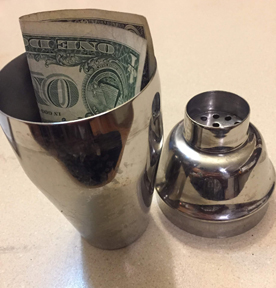 Like what we are doing?
Your generous donations
Help keep the bar stocked,
and the pop-up ads absent!
Don't like PayPal? I am also on Venmo! @Tiki-King