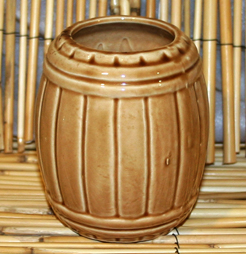 Tiki King's
Virtual Bartender
Mai-Kai Barrel O' Rum
From
The Mai-Kai, Ft. Lauderdale
2 ounces white Puerto Rican or Virgin Islands rum
2 ounces dark Jamaican rum (Kohala Bay preferred)
2 ounces fresh lime juice
2 ounces orange juice
2 ounces white grapefruit juice
2 ounces rich passion fruit syrup
1 teaspoon rich honey mix (below)
Splash of club soda
6 dashes Angostura bitters
Pulse blend with a heaping cup of crushed ice (perferably in a top-down or spindle mixer). Pour into a ceramic rum barrel or large snifter, adding more crushed ice to fill.
Rich honey mix
2 parts honey
1 part water
Bring water to a boil, remove from heat, add honey, stir to dissolve.
Back to
Tiki King's virtual bartender
at:
www.tikiking.com
Because someone,
somewhere,
needs a Cocktail right now...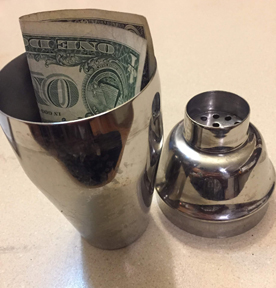 Like what we are doing?
Your generous donations
Help keep the bar stocked,
and the pop-up ads absent!
Don't like PayPal? I am also on Venmo! @Tiki-King