Tiki King's
Virtual Bartender
Combustible Edison Cocktail


2 ounces brandy
1 ounce Campari
1 ounce fresh lemon juice
In a shaker full of cracked ice,
combine Campari and lemon juice.
Shake and strain into a chilled
Cocktail glass. Heat brandy in a
chafing dish. When warm, ignite
the brandy and pour in a flaming
stream into the Cocktail glass.
Variation: If the brandy is chilled
and shaken rather than ignited,
the drink is known as the Edisonian.
Back to
Tiki King's virtual bartender
at:
www.tikiking.com
Because someone,
somewhere,
needs a Cocktail right now...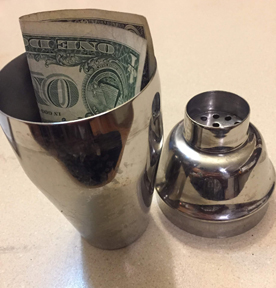 Like what we are doing?
Your generous donations
Help keep the bar stocked,
and the pop-up ads absent!
Don't like PayPal? I am also on Venmo! @Tiki-King