Coconut Monkey... A Tiki King Original!


This was one of the three "traditional"
cocktails served at The Tiki King Luau
from 1996 to 2001
1 1/2 ounces light Rum
1 ounce cream of coconut
1 ounce Creme de banana
1 ounce
Orgeat Syrup
soda water
In a shaker half filled with ice,
combine all above except soda water.
shake well and strain into a hurricane
glass or Tiki mug 3/4 full of ice.
top up with soda water. Garnish with
orange slice, maraschino cherry,
and paper parasol.
Back to
Tiki King's virtual bartender
at:
www.tikiking.com
Because someone,
somewhere,
needs a Cocktail right now...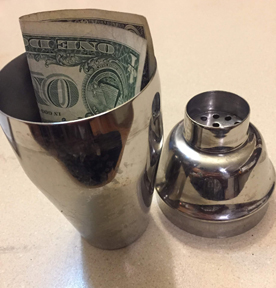 Like what we are doing?
Your generous donations
Help keep the bar stocked,
and the pop-up ads absent!
Don't like PayPal? I am also on Venmo! @Tiki-King