Tiki King's Ukulele Database:

Favilla


Made in Brooklyn, New York. Family owned and operated, Favilla was in business from 1890-1985, Building guitars, as well as several different styles of Ukulele. Many have lasted well, and are known for their sweet mellow tone. John Favilla is credited with the invention of the baritone Uke (at the request of Herk (Hercules) Favilla) and Herk wrote the first Baritone Uke method book in 1949, published in 1950. Ukulele production was halted in 1973, and Tom Favilla, (Herk's son) built the last Favilla Guitar in 1985. Click here
for a nice history of Favilla.

Back to the Database!
Back to the Tiki King Homepage!
Ukulele, Ukelele, Ukalele, Uke!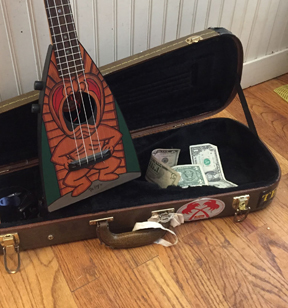 Like what we are doing?
Your generous donations
Help keep the research going,
and the pop-up ads absent!

Don't like PayPal? I am also on Venmo! @Tiki-King



looking for some cool Uke Swag?

Neat Ukulele T-Shirts, Mugs, and More
Many Designs to choose from!
Your purchase helps support this database