The Surf Flea Ukulele
Surfs Up!
Using old surfboards as my muse, the Surf Flea is the younger brother to the Surf fluke. The Flea is soprano size, with the same quality construction as the Fluke. A fun piece of Art you can play with! These special edition Surf Fleas are available awesomely accented with a walnut neck, Hardwood fretboard and natural wood bridge, and are nicely printed reproductions of original Artwork by Tiki King!




Extras:
PegHed Geared Tuners, add $69.00

Grip Strips, add $3.95

K & K Soundboard Transducer Pick-up, $75.00

B Band Undersaddle Pick-up with Pre-Amp,
tone and volume control, $149.00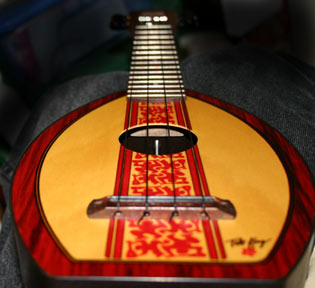 Catch the wave!